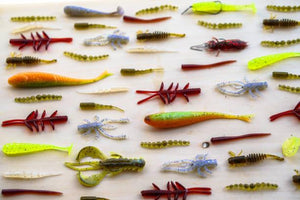 Getting Started With Softbaits - A Beginner's Guide
Fishing is very popular in New Zealand, and for a good reason! Our Island nation is surrounded by some of the best saltwater fishing spots in the World. Every good fisherman and fisherwoman knows that there are heaps of different types of lures, bait, tactics and more that help you land the big fish of your dreams.
Specifically, you might be interested in using softbaits. These fantastic baits are very popular among dedicated fishermen and fish alike.
But what makes them so appealing to humans and saltwater fish? And how do you effectively use them to make your fishing trips more successful?
What Are Softbaits?
Softbaits, also sometimes known as soft plastics, are baits that are made of soft materials. They're flexible and slightly stretchy, making them look and behave more like live bait than lures that are made of harder and stiffer material.
Some people might wonder if their bait being soft really makes a difference, does material matter that much? In fact, it can! Fish are attracted to the natural movements and various looks of well-designed softbaits.
Of course, not all softbaits are the same. The key differences between each of your options can make them better suited to different environments and target fish.
When you look for your first softbaits, consider the following:
Biodegradable verus plastics. Gulp softbaits are 100% biodegradeable and fish can eat them with no adverse side effects. Other softbaits are soft plastics which can breakdown into micro-plastics in our oceans.
Their Shape. Softbaits are soft and rubbery, so they easily move back and forth in the water as you reel them in. Their shape determines precisely how they move around. Some of the shapes you will find at your favourite fishing shop are:
Paddle Tails. As their name implies, paddle tails have a distinctive paddle-shaped tail. This paddle tail moves back and forth, similar to a small fish, and can attract larger fish.
Curly Grub Tails. The curl grub tails have a tail, just like the paddle tail softbaits, but their tail is long and flat and curls upwards. This prominent tail makes the bait look more like a worm or grub as it moves through the water or along the bottom of the ocean.
Creatures. Creature softbaits can be shaped to resemble all sorts of different creatures. You can find softbaits shaped like crawfish, shrimp, octopus and more. Many people prefer slow reel tactics when using creature softbaits to mimic live creatures better.
Jerkshads. Jerkshads lack the large tails of the paddle tails or curl grub tails and they aren't as detailed as creature softbaits. Instead, anglers will need to reel them in strategically. You can periodically jerk on your line to make your bait twitch erratically in the water like a small, wounded or panicked fish.
Their Colour. Along with their shape, you should also consider their colour. Different colours can appeal to various fish and be better for different fishing environments.
Colours can be:
Natural Colours. Naturally-coloured baits aim to look as realistic as possible. They often aim to look like real baitfish used in the area. These naturally-coloured baits are best used when the water is nice and clear so your target fish can get a good look at your bait.
Dark Colours. Darker-coloured baits are better suited for areas where the water's clarity isn't as good. Dark greys, greens, browns and blacks are easier to see in murkier water, so fish will be able to see them easier than if you were using naturally-coloured softbaits.
Vibrant Colours. You will undoubtedly find strangely-coloured softbaits in your favourite fishing store. These softbaits can have wild colours that you wouldn't expect to see on your regular baitfish, and their vibrant colours can attract fish. Things like sparkling glitter can also help attract a fish's gaze.
Tips And Advice You Should Know Before You Head Out On Your Next Fishing Trip
There are plenty of helpful tips and tricks you can use when using softbaits. For example:
You Can Use Scents To Make Them More Appealing And Noticeable. Some softbaits are infused with scent to automatically make them more noticeable to fish in the area. Many fish have a surprisingly good sense of smell, so adding a scent to your bait can really help.
Gulp Alive Recharge Juice, and products such as Secret Sauce, can make your softbaits smellier and more appealing to fish.
Pay Attention To How You Are Reeling In Your Softbaits. Fish respond to smell and appearance but can also respond to movement. Try to understand how your selected softbaits move in the water and adapt your reeling style to bring out their full potential.
For example, you could keep your reeling slow and keep your creature-shaped softbaits near the bottom of the ocean, or you can keep your Jerkshad softbaits quickly moving through the water.
Looking To Enhance Your Tackle Box? Shop At Screaming Reels Today!
Are you ready to find success with softbaits? Come visit our online store at Screaming Reels! We have a wide selection of softbaits in all different colours and shapes.
If you would like some assistance with your shopping, we'd love to help. Please call 021 0295-6596 to have a chat with Garry.
Screaming Reels is your one-stop shop for fishing supplies in New Zealand!
---