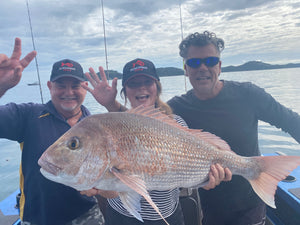 BOI Fishing Report 9-Mar-23
English visitor Katie made a great start to her fishing career with this 18lb snapper she caught and released last week.
Finally. some settled weather! We took young Katie from Devon, England, for what she told us was her first time fishing! She went and landed an 18lb snapper on the Free Swimmer strayline setup, which was duly photographed and released. Not a bad start!

Mick Jepson on Kat n Fiddle continues to fish well, telling me he got two yellowfin tuna and three striped marlin last week. As a trainee weighmaster, last week I helped hoist up a 218kg swordfish – a pending women's world record on 15kg line – and also assisted in weighing a 51kg yellowfin. The game fishing continues to go well, with three or four bites a day not uncommon.

In-shore, the snapper and kingfish are about, although, if social media is anything to go by, boating kingies has been tricky due to the persistent taxman presence.

The forecast is looking much more settled, and there are several local fishing competitions coming up, including the 'Reel Ladies' and the 'Cater Marine Small Boats'.

Come into the shop to check out the latest gear, pick up your bait, ice, berley, and most importantly: some genuine intel! We are open every day 9am to 4pm.
---