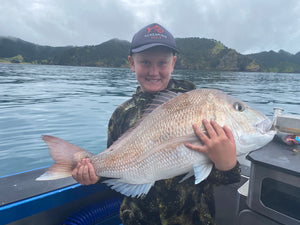 BOI Fishing Report - 6-Apr-23
Tyler Davey with the "Horse", which after the photo was safely released
I got my mojo back! Good weather and have enjoyed some great fishing. Been unlucky on the game fishing side although had two bites but it's always great to see a marlin on the surface worrying the outrigger lure! Shame he didn't stick but that's fishing. I've also had the opportunity to take 2 young fellows out for a fish over the past 2 weeks and seeing the smile on these young, keen as mustard, anglers makes it so rewarding. Last Sunday I snagged a great snapper on the strayline in shallow water which ran like a locomotive and I struggled to get the rod out of the holder. I called it a shark but as the fish finally got close to the boat, young Tyler yelled, "that's a horse!!"

As expected, there were numerous Marlin caught and tagged during the Cater Marine Small Boats competition and my mate Kevin Hardaker took out the Snapper prize with a 11.3kg fish. My weighmaster/mentor, Carl Pullen got the heaviest kingfish at 11.75kgs. The Southpac Truckers and Loggers competition last week also saw numerous marling caught and listening to channel 3 in the shop almost drove me to distraction with hook-ups being called in.
Unfortunately, the weather forecast for Easter weekend is not looking that great, but if you can find some shelter the shallows seem to be holding good fish. If there's an opportunity, Rocky point foul area is reported to have some good kingfish and around the 9 Pin has also produced good snapper.
Come into the shop to check out the latest in gear, get your bait, ice and berley, and most importantly, some genuine intel! We are closed Easter Friday and Easter Sunday but are always available to run down to the shop an supply bait or gear. Just give me a call!.
---