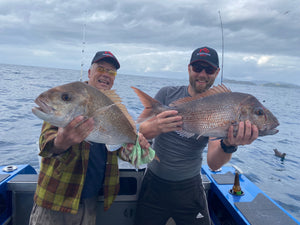 BOI Fishing Report 3Nov22
Workups starting in earnest
Wow, what a difference two weeks can make! I've been out twice, and each time it's been red-hot fishing. During one evening's fishing, alongside the first large-scale work-up I've encountered this season, three anglers onboard found themselves with bent-over rods and screaming reels, all yelling, "I need the net!" Utter chaos – but so much fun!

On Tuesday we tried a morning fish. Although the snapper bite was slower, the slow jigs and soft-baits produced the goods while we made a prospecting drift across the Middle Ground area. The best was a nice fat one at 69cm.
Reports from other local anglers also indicate that the bait schools are now becoming more prolific, and Carl from the Longbeach Coffee Shop has reported some good catches. Mick Jepson, fishing off his Stabicraft Storm, caught a cracker of a kingfish – 31.7kgs – on 6kg line. He tells me it took him 45 minutes to land. Fantastic effort!

Coming up this weekend is the Blu Heelers competition, followed by the Rockhoppers competition from 18-19 November.

I get the feeling that it's about to fire, so I will be out every chance I get over the next few weeks. Remember, when the action is hot, it is easy to get carried away numbers-wise. Be aware that the resource is finite, and just catch what you need!
---