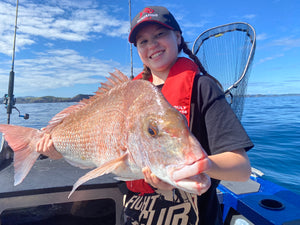 BOI Fishing Report 26Jan23
Hena Eagle with a cracker 5kg fish she battled heroically to land on a Bender rod!
It's been tough finding the fish. I've had a few days out where we barely managed a feed. Customers report the same, some having great days, others very little to report. But feeding off the intel received in the shop I fished the 50-55m area off Whale Rock last Sunday using sliders and on a slow drift landed a few good fish. Schools of skippies were sighted nearby and we had a great time trolling soft plastics around these and landed a few. What a great fight on light gear!
Reports from the big game fisher's is that some days nothing, others quite a good bite. Mick Jepson went up to the Cape and tagged a stripey and landed a cracker of a shortbilled spearfish. Observing the multiple schools of skippies sighted last Sunday between 60 and 100m out in the middle of the Bay, I would suggest that you don't have to go far to find a Marlin.

The weather has again turned about somewhat and the El Dorado tournament planned to start yesterday was postponed a week.
The consensus seems to be that the snapper are either in shallow or out deep. If I get a chance, I'll be heading out to the 50m area again to try my luck although if you stay in close to shore, you just might do better!
Come into the shop to check out the latest in gear, get your bait, ice and berley, and most importantly, some genuine intel! We are open everyday 9am to 5pm (except Sat/Sun when we close at 4pm).
---