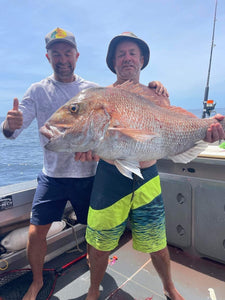 BOI Fishing Report 23-Feb-23
I've lost my Mojo! Between cyclones, power outages, internet and EFTpos failures, I just need a good fishing day. A chance finally came last Saturday and (drum roll..) we caught nothing! Not at all what was anticipated. I guess you gotta have these poor days to really appreciate the good days! Meanwhile, reports of meritorious catches keep rolling in. Coffee Cart Carl was casting a grumpy fish lure up front of the boat while waiting on the livebaits to get eaten by kingfish, and bam, pulls up a 22.5lb snapper.

Kevin fishing with Mick Jepson on Kat n Fiddle caught a beauty yellowfin tuna, just shy of 60kgs. With the Nationals on, social media is bombarded with gamefish of every species including a massive Northern Bluefin Tuna and even a Wahoo down Waihau Bay. Most boats seem to be up at the cape and large numbers of marlin are being caught daily. Local legend Bruce Smith is reported to be catching heaps of snapper from his kayak in a undisclosed shallow bay.

The forecast is looking much improved and I will hopefully have another go soon! Instead of deep, I'm going to try shallow and try out the new Fishbites. If you want to catch different species to the usual kingfish and snapper fare, then these artificial baits work a treat. The porae love them!

Come into the shop to check out the latest in gear, get your bait, ice and berley, and most importantly, some genuine intel! We are open everyday 9am to 4pm.
---