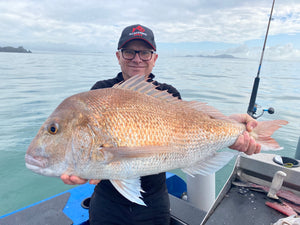 BOI Fishing Report 1st June 2023
James with the fish of the day last Tuesday. Subsequently released.
The last fortnight has seen more weather windows than usual, and I have managed to get out twice. Plenty of kahawai schools in the Bay resulted in our bait easily caught. Whitebait was what the kahawai were feeding on and so the smaller narrow sliver twisty lures worked great. We then preceded to convert that bait into snapper. Drift fishing in 12 meters was productive and we caught fish on sliders, softbaits and big baits on the strayline setups.

James (from Sydney) has recently brought a property in Russell and came into the shop enquiring about fishing techniques used locally. So of course, we invited him out to show him how its done… turns out he showed us! Big kahawai strips on a strayline setup producing the goods!
The local tournament of the year is the Yellowtail International tournament being fished 11th to 16th June. Some 35 teams participate and it's a 6Kg event so there are plenty of tales of bust offs. The weather forecast for this weekend is looking fishable and I'm sure a number of locals will be out on shake down trips to test their tackle before the tournament!

Come into the shop to check out the latest in gear, get your bait, ice and berley, and most importantly, some genuine intel! We are currently operating on our winter days, Closed Monday (except Kings Birthday), Tuesday and Thursday's but we are always available after hours to run down to the shop and supply bait or gear. Just give me a call!.
---