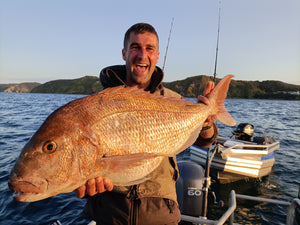 Bay of Islands Fishing Report 5th October 2023
Regular customer Alex headed out for a solo fish to get his fix and on his first drop, boom, got a 23lb snapper. Fortunately, he met up with a mate on the way home to get the photo!
As is typical with the school holidays, the weather dutifully turned for the worse during the 1st week! Nevertheless, some young keen lads were down at the Tapeka rocks the weekend before last – braving the wet and windy conditions, they caught 3 great snapper. A couple of days later I was shown a video of a 20lb plus fish being returned to the briny after a great tussle in perhaps the same spot? It seems there are some great fish in shallow!
Meanwhile, personally very little to report as only managed a couple of short trips until the wind strengthened. We've managed a feed, but only just! I see on social media that some charter operators have been catching some good-sized kingfish and been doing pretty good out deep with some nice sized hapuka too.

I'd like to say it looks like more settled weather is here, but everytime I do it I think I jinx it! And surely the school snapper are about to arrive in the Bay? Can't be far off! The marine boating forecast looks good for the middle foul area till this Saturday, then more wind arrives.

Come into the shop to check out the latest in gear, get your bait, ice and berley, and most importantly, some genuine intel! We are currently operating on our winter days, Closed Monday, Tuesday and Thursday's(until Labour weekend) but we are always available after hours to run down to the shop and supply bait or gear. Just give me a call!.
---