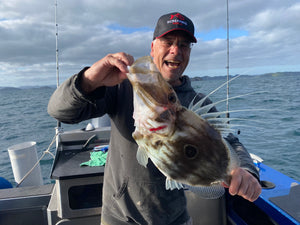 Bay of Islands Fishing Report - 22-Oct-22
Bevan nails impressive BOISC snapper pinfish
The weather has not been conducive to fishing, at least not on the days I can get away from the shop, with prevailing southerlies and easterlies.
On the few times we have got out, we have managed to get a feed using soft-baits and slow jigs, but nothing like the fishing experienced last year.
Reports from the local anglers indicate that the bait schools just aren't there in the density usually encountered in October and that the wind versus tide is a common issue. The afternoons seem to be fishing better overall, but some days it's red hot and on others very slow.
One of the highlights on the snapper front so far was Bevan Beauchamp's 12.75kg snapper caught last week, a pinfish for the BoI Swordfish club. It scoffed a livebait Bevan had set with a john dory in mind.
Bay of Islands angler Bevan Beauchamp with his 12.75kg BOISC pinfish and some young admirers!
Carl from the Longbeach coffee cart nailed a 20lber on a soft-bait last Sunday. The genuine oil received indicates that Mita's Foul is holding the fish. Local kayak fishers report great success from slow trolling lures around the foul while reports from rock fishers trying their luck at Tapeka Point indicate some good snapper have been lurking in close.
On the charter fishing front, Spot X Fishing Charters has closed its operation down, the owners having returned to Europe. Judging by the images posted on social media, Darren knapping on Days Out has been putting his clients onto some nice fish, both snapper and kingfish.
Come into the shop to check out the latest in gear, get your bait, ice and berley, and most importantly, some genuine intel!
For more fishing reports, how to guides, bite time, tides and more please visit www.fishing.net.nz
---