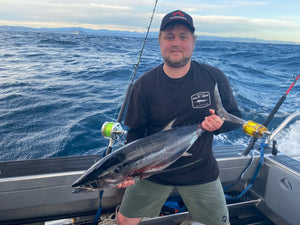 Bay of Islands Fishing Report 12th July 2023
Matthew Bell with a tasty albacore caught off Waihau Bay. Our consolation prize!
Firstly, my apologies for missing the last Fishing Report. I was away trying my luck for an SBT down Waihau Bay however the weather gods did not cooperate. We managed a day and a half and landed one albacore. In the Bay I haven't been out for weeks as any small weather window seems to conflict with work.
My mate has just reported a successful fishing charter trip where they got a good bin of pannies out from the black rocks. A number of shop regulars, who have boats, have resorted to rock fishing to get their "fix"… and reportedly they are doing well. Timing with the tides and change of light seems to be the way to go and plenty of berley.
The weather forecast is not that great but it looks like offshore westerlies for the Bay. It might be a bit breezy but the sea condition is likely to be flat. Alternately between Robbies and Paroa Bay will be more sheltered and some good fish can be caught over the worm beds.
Come into the shop to check out the latest in gear, get your bait, ice and berley, and most importantly, some genuine intel! We are currently operating on our winter days, Closed Monday, Tuesday and Thursday's but we are always available after hours to run down to the shop and supply bait or gear. Just give me a call!.
---